Choose a condominium and floor plan that makes a statement about your style.
The decision to move to a senior living community in Maryland comes with a variety of options. Once you've found the perfect community, you'll want to decide on the most desirable floor plan. Whether you're moving to connect with like-minded people, to be closer to the social and cultural advantages of a historic location or you're trading the responsibility of ongoing home upkeep for the ease of condominium ownership – all can be achieved at Fox Hill.
There are also many home choices – from one to three bedrooms with a den. Pick a one-bedroom senior living floor plan that frees you from housekeeping duties, provides the comfortable living space you need, and allows you to be as social as you wish, or to travel whenever the urge strikes. If you expect frequent visits from friends and family, you may want to select a floor plan with an extra bedroom and a comfortable den to accommodate your guests when you're not out exploring things to do in Bethesda and the Washington D.C. area. Fox Hill maintains a lovely guest suite for rent that you may choose to reserve for your guests.
How to Choose a Floor Plan
Are you moving to a new space as a couple or alone?
Do you have a vision in your head of the perfect lifestyle?
Do you look forward to overnight visits from grandkids or to frequent guests?
Will you have a pet?
Do you play cards or host dinner parties regularly?
Do you value quiet time alone in your own private space, or do you need workspace for personal pursuits or a hobby?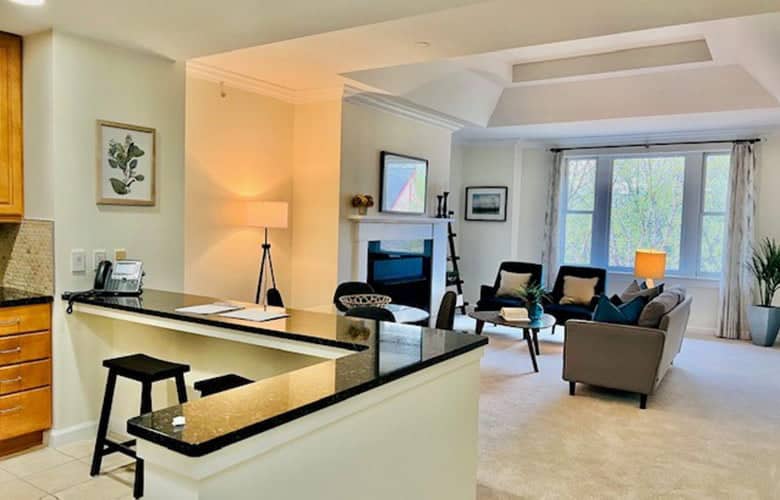 At Fox Hill, the sales team will help you select a floor plan that will suit your needs perfectly so you can fully enjoy the benefits of condo living. Condominium buyers at the Fox Hill retirement community can remodel and decorate to reflect a personal aesthetic. Each of condominiums, no matter what size or configuration, can be altered to allow you to express your individuality and personal interests, from a well-designed single-bedroom plan to expansive units with two bedrooms, two and a half baths, and a separate den. There are even a few three bedroom units
About Fox Hill's Senior Living Floor Plans
The floor plans at Fox Hill retirement community vary from not quite 850 square feet to some over 2,000. But know that it's often not the simple square footage that matters most; instead, it's the way the space "lives," so take the time to "walk through" the floor plan as you consider your daily routine and favorite activities. Bring treasured furniture, art and accessories from your current home, or start fresh with contemporary decor. It's entirely your
choice. If possible, visit a currently available unit before you commit to a specific plan; having some basic furniture measurements with you can be helpful.
Many condominium floor plans at Fox Hill have certain things in common: a spacious living/dining room with a fireplace, a modern kitchen, a master bedroom with a walk-in closet and a bathroom with at least a large walk-in shower. Beyond that, various one- and two- bedroom plans vary both in square footage and specific room configuration. The differences are sometimes subtle, but can make a big difference to how you live. To help you visualize the lifestyle of Fox Hill, take a virtual tour of some of the condominiums and amenities.
If you have further questions, please do not hesitate to reach out to get answers or to schedule a personal visit. Fox Hill is a warm, welcoming and vibrant community designed to offer extraordinary living opportunities to extraordinary people.