Stay in control of your healthcare decisions.
As a  Fox Hill condominium owner, you will retain control over every aspect of your retirement—your finances, your lifestyle, and, most importantly, your healthcare decisions. Instead of dictating a rigid continuum of care, you are able to live as independently as possible in your own home and to stay close to friends and neighbors. 
Fox Hill offers a wide variety of services and amenities to help you focus on fitness and wellness so you stay healthy and fit. If you require a higher level of care in the future, you can choose additional services that fit your unique health needs and lifestyle.
Assisted Living in Bethesda, MD
At Fox Hill, assisted living services are conveniently available on-site through the expertise of healthcare partner Sunrise Senior Living—the nation's largest provider of quality senior living. Fox Hill condominium owners have priority access to assisted living.
Assisted living services give you the dignity of receiving help with certain tasks, while also letting you thrive on your own. Typically, an on-site health aide will help assisted living residents with daily tasks such as bathing, dressing, eating, and more. This assistance lets you look and feel your best, so you can enjoy your days. The goal of assisted living is to support your ability to live as independently as possible by making sure the help you need is nearby. An on-staff social worker is available to advise families about options when they are needed.
Help Beyond Physical Health
In addition to these tasks, residents may also require a hand with maintaining their independence beyond their physical health. Assisted living services can also encompass help with home living tasks, such as:
Making phone calls
Housekeeping and laundry
Medication management
Home maintenance
Transportation
Shopping
Bill and money management
Fox Hill residents also have priority access to memory care on site through Sunrise Senior Living. World-class healthcare choices from the region's most outstanding hospitals, healthcare organizations, and professionals in Washington D.C., Bethesda, Potomac, Chevy Chase, and Rockville are within easy reach.
Memory care supports those living with dementia or memory loss. Memory care communities support residents through specialized staff, individualized care, and stimulating multi-sensory activities.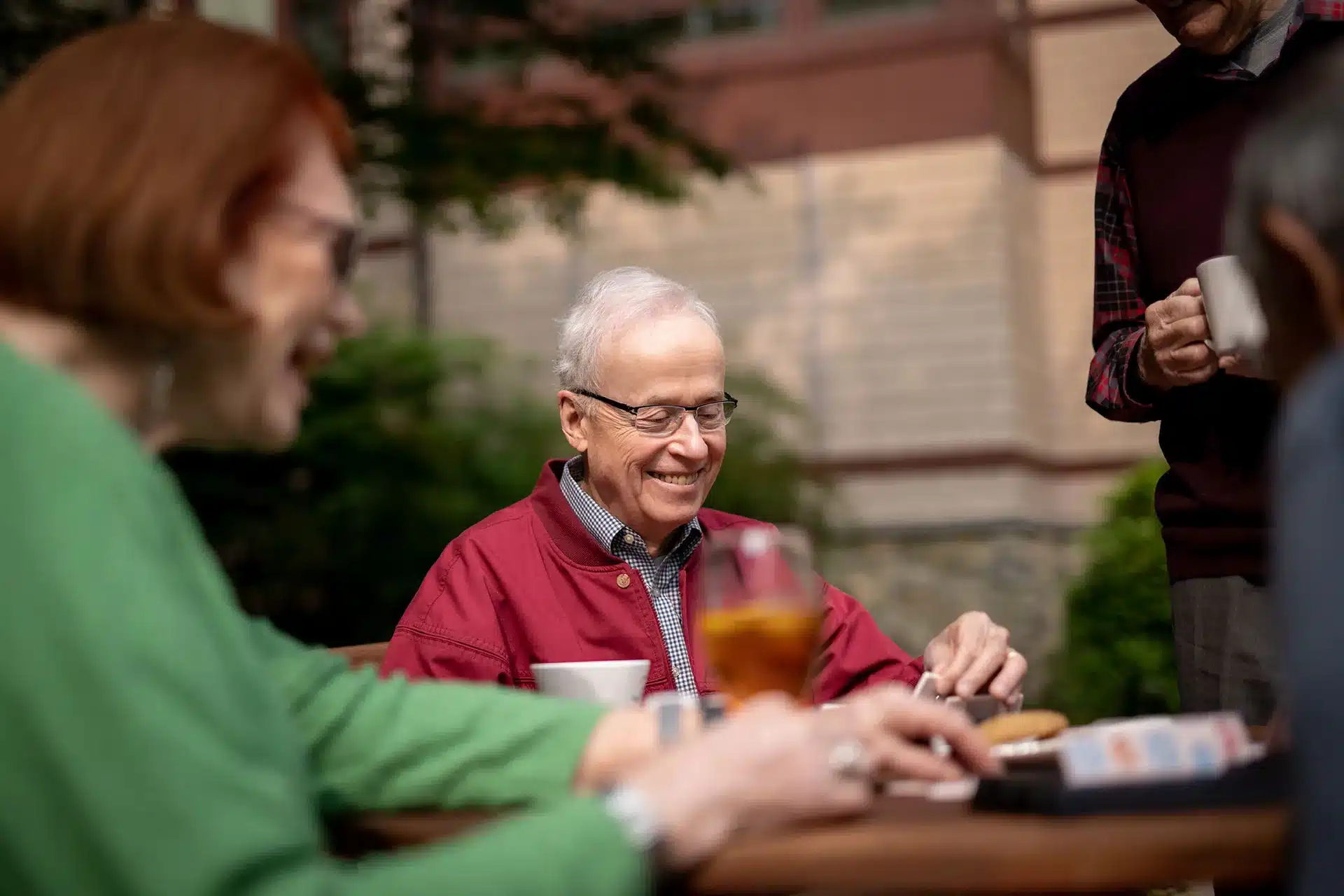 Typically, memory care will include services such as:
Social, emotional, and cognitive enrichment programs
Floor plans and apartment features for memory care residents
Assistance with daily tasks, bathing, toileting, dressing, etc.
Medical support as needed
Meals, housekeeping, and home maintenance
24/7 security monitoring
Family and Nursing Care