Live independently at Fox Hill.
Your vision for retirement – including your finances, lifestyle and healthcare – is in your hands. Our community is simply here to support your preferences. Our diverse amenities are designed to help you pursue your wellness goals, personal interests and sense of connection.
At Fox Hill, you are able to spend your retirement on your terms. Here are a few ways independent living services can meet your needs both today and in the future. 
What Is Independent Living?
Independent living is all about helping you thrive. Fox Hill, an independent living community, gives you easy access to key amenities, such as dining, housekeeping, an onsite business center and a 24-hour emergency system. 
In addition to these convenient services, you can enjoy our fitness center, spa, walking club, art studio, library, wine cellar, swimming pool, game room and Performing Arts Center. Fox Hill staff takes a holistic approach so that you can nourish your body and your mind – all under the same roof. 
Even though you don't need health support now, you don't have to worry if you need it later. At Fox Hill, there are separate assisted living and memory care options nearby through your contract with Sunrise Senior Living, so you have peace of mind if your health needs change.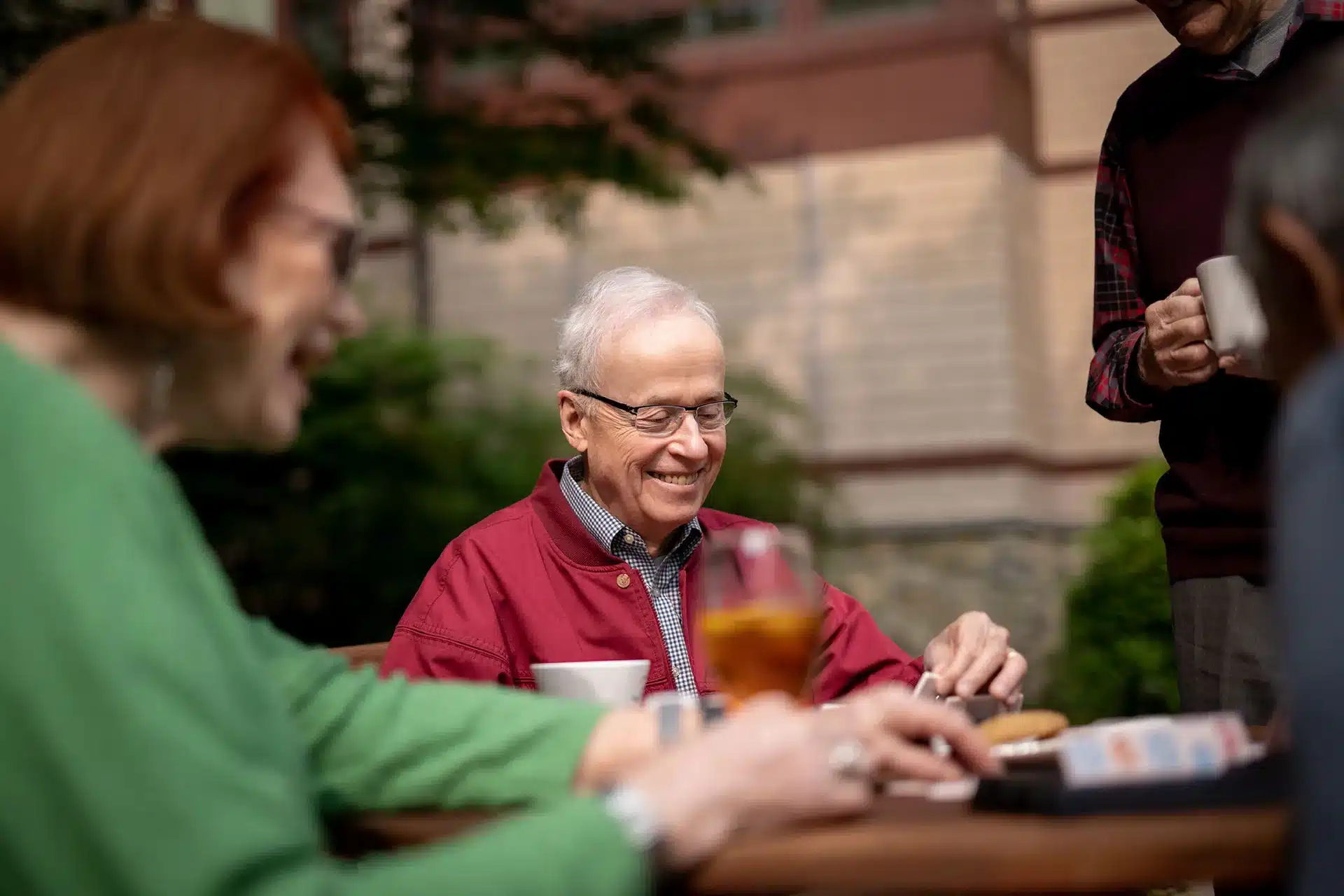 Independent Living Amenities
Independent living at Fox Hill is unique to every resident. A wide array of services is designed so that you can have everything you need in one place – you don't have to leave Fox Hill to do your errands if you don't want to. You have easy access to the convenience store, bank and business center, as well as concierge services and parking. Complimentary transportation by limousine for medical appointments within a 10-mile radius is available by reservation.
You don't have to worry about chores, either. Fox Hill offers maintenance, housekeeping, laundry and meals so that you can focus your time on pursuing your interests. You can also feel safe with 24-hour monitoring.
Finally, Fox Hill is a haven for lifelong learning, so you can work towards your retirement goals.
You can take advantage of these services at this Bethesda retirement community: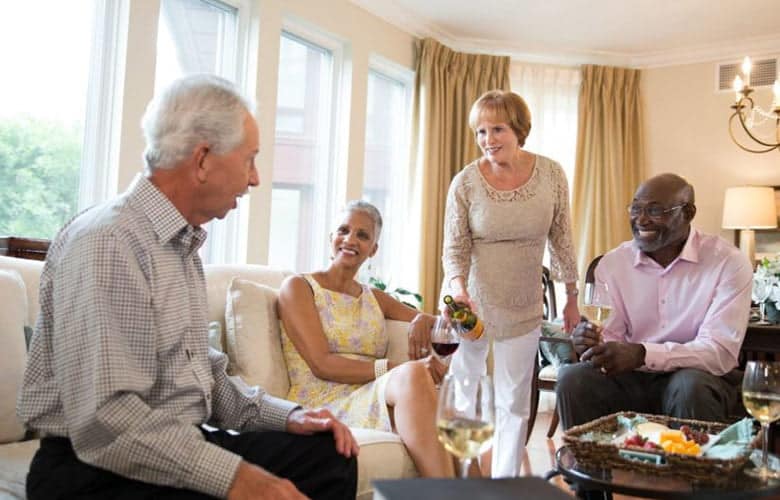 24/7 Fitness Center with free classes and individual trainers for hire
Beautiful Gardens and Walking Trail
Full-Service Spa, Hair Salon
Indoor Virtual Golf
Indoor Pool
Wine Cellar with Tasting Room
Game Room
Art Studio
Performing Arts Center
Library
Cost & Value of Independent Living in Bethesda
The final monthly cost for independent living in Maryland will depend on your choice of community and the amenities offered onsite. Retirement communities like Fox Hill, which have comprehensive amenities offer great value, though the price may be higher than average. Typically, the biggest price difference will be according to the size of your apartment or condominium. You may also pay more for top amenities, special care needs and extra dining options. Be sure to get in touch to receive a personalized quote for independent living at Fox Hill.
Independent Living vs. Aging-in-Place
While aging-in-place in your home may seem like the more affordable option, it's important to take all your bills into account. If you choose to live in a single family home, you'll have to budget all your expenses separately. This includes bills such as utilities, groceries, insurance, housekeeping, entertainment, transportation, maintenance, yard care, and budgeting for future major expenses. 
With an independent living community like Fox Hill, you usually pay one monthly fee for all your amenities, and more. Often this gives you greater value and peace of mind, as you can easily control your budget. In addition, you can enjoy amenities you wouldn't otherwise have access to at home. This includes access to health services and deluxe amenities such as a fitness center, entertainment room, transportation to local events and more. 
Independent Living Residential Options
You have options when it comes to choosing your new home. At Fox Hill, there are a variety of floor plans so you can pursue your ideal lifestyle and craft the spaces you wish. Choose between one-bedroom, two-bedroom, and three-bedroom apartments – some with den space or a balcony. 
All floor plans are spacious and come with top amenities such as a fireplace, a modern kitchen, a master bedroom with a walk-in closet and a bathroom with a walk-in shower. You can transform your condominium into your personal space. Learn more about floor plans and tours here.
Is Independent Living Right for Me?
Fox Hill independent living may be right if you're looking to simplify your lifestyle. Instead of worrying about chores and errands, you can spend your time pursuing your interests and making new connections with your neighbors. 
Independent living at Fox Hill gives you access to key amenities such as housekeeping and maintenance, as well as activities through an onsite fitness center, Performing Arts Center, library, wine cellar and more. Empower your daily living by taking advantage of these amenities and designing your days according to your preferences. On the monthly calendar, you'll find daily options including card games, board games, educational lectures, field trips, movie nights and much more.
At the same time, you can get peace of mind knowing health alternatives for rent are available. In case your health needs change, you can make easy arrangements with Sunrise Senior Living for a room in the assisted living or memory care units so conveniently located nearby. Reach out to learn more about Fox Hill, a cosmopolitan retirement community in Maryland today!
Independent Living Photo Gallery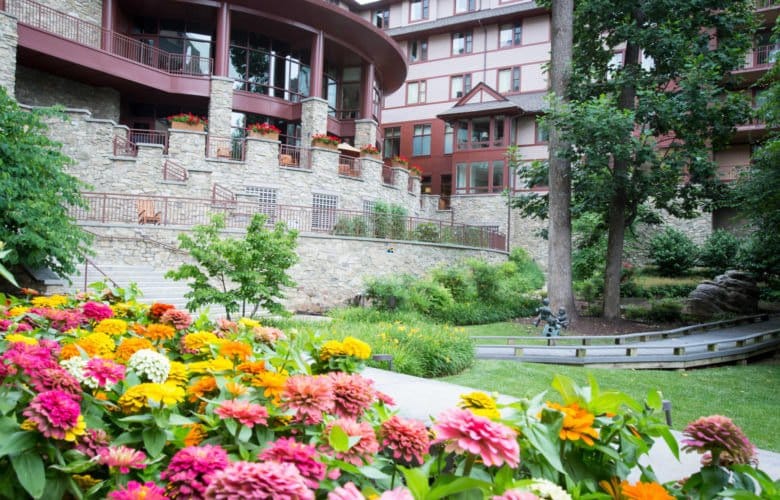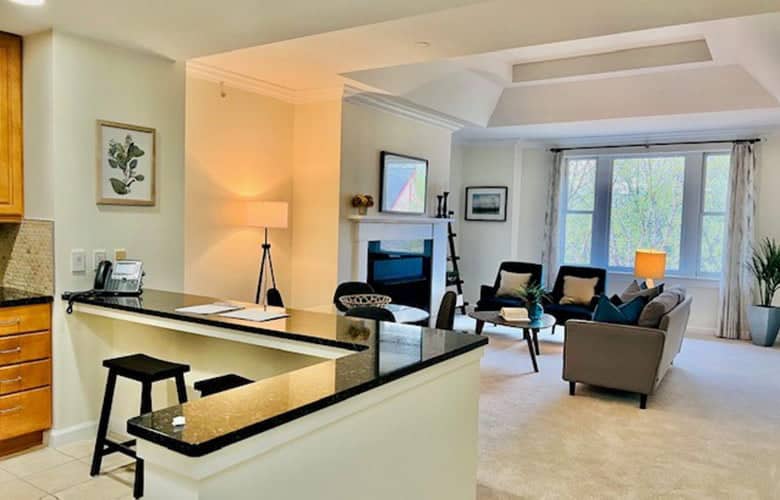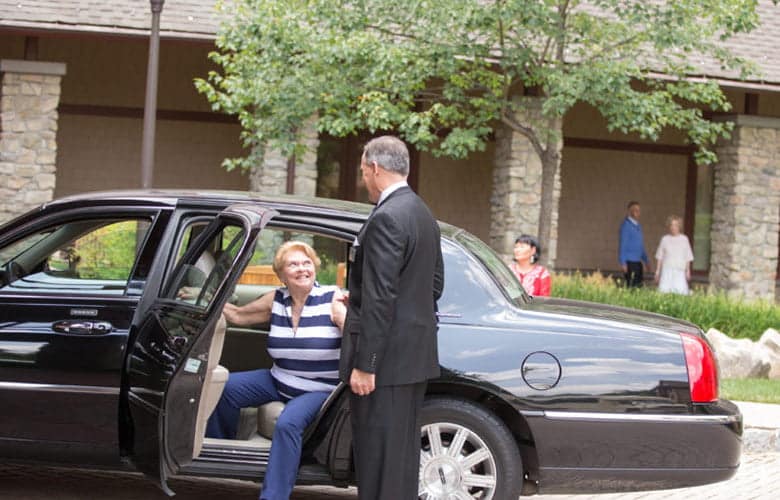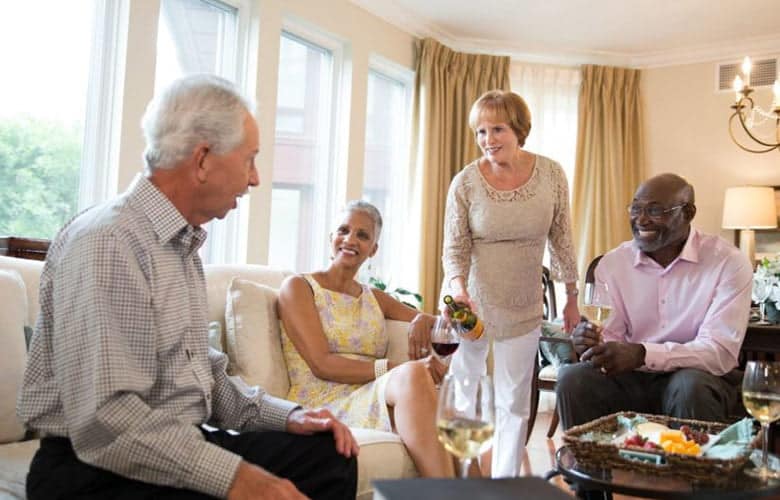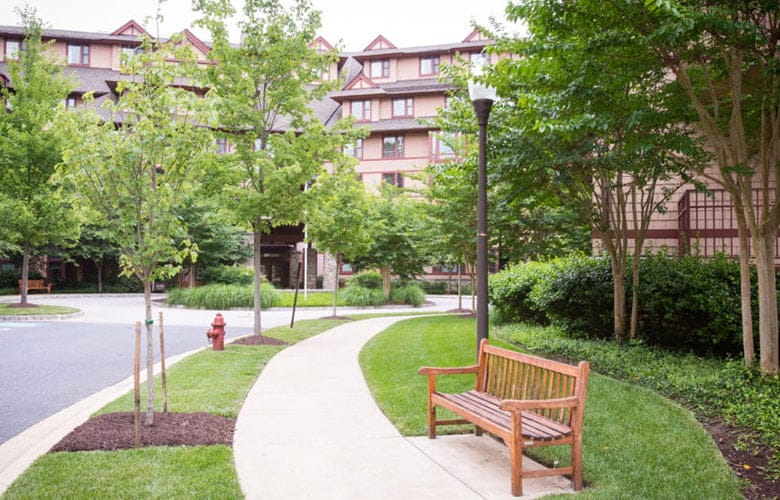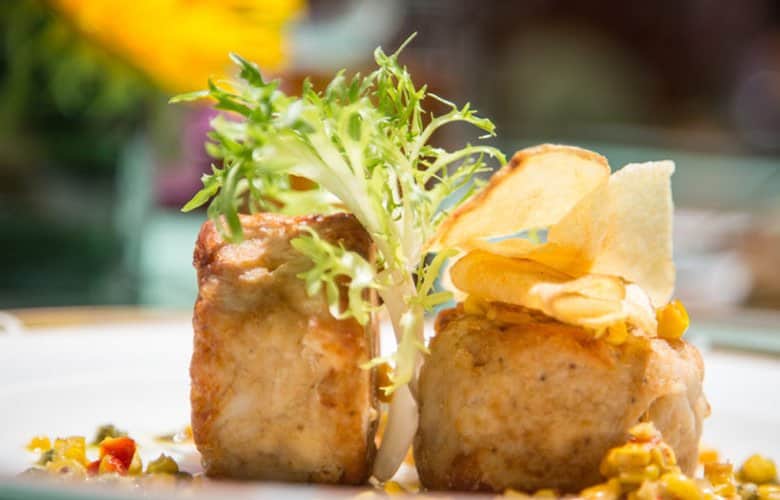 Independent Living Frequently Asked Questions
Below are some frequently asked questions regarding the structure of the independent living community and fees associated with purchasing a condominium unit at Fox Hill. The Public Offering Statement contains additional details regarding the Fox Hill project.
In one monthly fee, you'll get deluxe amenities including basic maintenance, housekeeping, and weekly bed linen service, as well as access to the convenience store, bank, business center, free transportation to medical appointments within 10 miles, access to in-house salon, and basic IT support to install and maintain your home electronics. You can feel secure knowing onsite health support can be arranged as needed.
In addition, there is a fitness center, indoor pool, game room, library, Performing Arts Center, wine cellar, and more. With these amenities, you can focus on meaning and connection every day of your retirement.
Independent Living at Fox Hill is designed to help you thrive on your own. While Assisted Living provides daily health support as you contract  Sunrise. At Fox Hill, there are all the amenities for an independent lifestyle. You can live independently while also having access to the services of Assisted Living if you need them later. 
Independent living means that you and your fellow owners govern yourselves according to Fox Hill's bylaws through the election of a Board of Directors.
Unfortunately, Medicare doesn't typically cover independent living costs. While your medical
care needs may be covered, Medicare doesn't cover room and board at independent or senior living
communities.